"Our mission is to offer a seamless, permanent, non-porous rubber surface,
that is superior, sanitizable, safe, and most importantly, affordable."
Seamless, Poured Rubber Equestrian Flooring by Equi-Turf™
Equi-Turf's mission is to provide affordable, sanitizable, beneficial, safe, long-lasting flooring for horse stalls, barns, equestrian spaces, playgrounds, and more. Equi-Turf is…
Ideal for Veterinary Flooring
Our incredible cushioned rubber flooring is a combination of recycled, unused industrial rubber-along with a durable, cushiony polyurethane binder.
Equi-Turf's seamless rubber flooring is easy on animals, providing an exceptionally comfortable surface for elderly, recovering, sick, or injured animals of all kinds: That's why so many vets prefer Equi-Turf for veterinary flooring and animal recovery floors.
Better than Horse Stall Mats
Equi-Turf can be used in place of horse stall mats, a solution that will allow you to hose down your equestrian areas for easy clean up—the best part is there is no smell!
Equi-Turf is a no-smell solution for your barn or equestrian flooring. With Equi-Turf, that token barn smell is a thing of the past, urine is easily hosed away, with no residue and no odor left over.
Rubber horse stall mats just don't match up to Equi-Turf rubber flooring; although horse mats may seem less expensive, Equi-Turf rubber flooring is a better, longer-lasting investment for your equine flooring. It's also antifungal and antibacterial.
Perfect for Playgrounds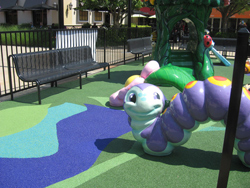 Equi-Turf's cushioned, poured rubber, polyurea surfacing also makes for excellent playground rubber flooring for use in day cares, schools, and neighborhood centers.
In addition to rubber flooring for equine,  cervine and bovine facilities, Equi-Turf has installed hundreds of high-quality, rubberized playgrounds across the United States with great results. These rubber surfaces are wheelchair accessible and customizable, with fun colors and graphic designs.
Green
Equi-Turf rubber flooring is LEED (Leadership in Energy and Environmental Design) certified, which means that this unique rubber surfacing complies with environmentally "green" standards.
Equi-Turf rubber horse barn/horse stall flooring is also USDA (United States Department of Agriculture) approved since it's in compliance with governmental codes, goals, guidelines, and missions.
Even with its green status, Equi-Turf's polyurea flooring is resistant to urine/ammonia, and it's even antifungal and antibacterial!
View our testimonials to learn about how we have improved a number of facilities across the country!