Much More Than Equine Flooring: Veterinary & Animal Recovery Flooring by Equi-Turf™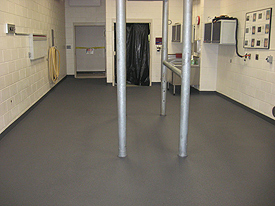 Equi-Turf's nonporous, seamless poured rubber flooring is ideal for equine or  cervine arena turf, horse trailer walls, and poured-in-place horse stall mats; however, it's also a preferred choice in veterinary flooring for animal recovery floors—and small or large scale veterinary facilities nation-wide.
The Equi-Turf rubber flooring process yields a permanent, sanitizable, cushioned rubber surface that promotes a bacteria-free recovery or operation area in vet facilities.
When used as a veterinary floor for operations, procedures or births, the Equi-Turf rubber surface simply needs to be hosed-off for sterilization, rather than taken apart, scrubbed for hours or completely replaced.
Injured, healing and elderly animals find increased comfort, stability and relief in the Equi-Turf rubber flooring surface, making it the ultimate addition to any veterinary facility, horse stable, bovine facility,  cervine, or zoo. Vets and animal lovers can be assured that Equi-Turf flooring provides the safest footing available for animals small and large:
"I am very impressed with the Equi-Turf surface.  It is very cushiony - not only for our horses but for our staff too!!  We love the non-slip surface.  Completely satisfied with our investment!"
-   Daniel Fritz, DMV, Gillespie Animal Center,     Fredericksburg, TX
Animal Recovery Flooring
The cushioned flooring patented by Equi-Turf is perfect for animals recovering from any veterinary operation, because it not only allows an animal to heal and transition with more comfort and ease, but the cushioned rubber surface is also easily sterilized and resistant to urine, fluid, blood, and moisture of any kind.
Rubber Flooring for Bovine Facilities
In part due to the increased comfort of cattle, Equi-Turf flooring is proven to produce 25%-32% more milk production in bovine facilities.
Seamless Vet Flooring for Cats and Dogs
Equi-Turf is a preferred choice for use in canine and feline applications. The rubber surfacing has been applied in veterinary clinics, animal hospitals and boarding facilities across the U.S.A., providing animal recovery flooring perfect for sick, injured, nervous, or recovering cats and dogs.